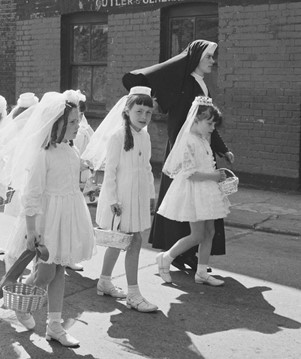 Photo: courtesy of The National Library of Ireland Photographic Archive
Why Shouldn't I Go?
Written and performed by Janet Behan
Directed by Jessica Higgs
Funny and shocking by turns, "Why Shouldn't I Go?" tells the stories of three very different Irishwomen with one thing in common – religion and the impact it has had on their lives.
In Realtine our heroine has joined a creative writing class but a long-buried secret has so far prevented her from writing a word.  Today her story comes pouring out. Reclusive Noreen rails against her daughter, husband and neighbours for ruining her life; in reality her life was ruined years before, when she was little more than a child. Susan, wife of the town's highly respected pastor, realises she's pregnant. The townsfolk offer hearty congratulations to their beloved pastor but are they misplaced?
Why Shouldn't I Go?

Tue 14 September 2021, 7:30PM
Wed 15 September 2021, 7:30PM
Thur 16 September 2021, 7:30PM
Fri 17 September 2021, 7:30PM
Sat 18 September 2021, 7:30PM
photo:Dermot Boyd
ReviewsGate **** ". . . Behan creates her three women with skill, transforming herself from one to the other as we watch, and Jessica Higgs has directed it with a sure touch, nothing is allowed to get in the way of the stories the women have to tell. . . The result is a sixty minute theatrical delight "
The UpComing ***** ". . . Behan gives a mesmerising performance, inhabiting each character distinctly and fully. Her writing is accomplished; there is not a single discordant note in it. . . these stories may be fictional but they are not far removed from real events. . . The audience feels the violent sense of injustice that their stories evoke. We want to know more about the characters and their stories, so rounded is the world Behan creates . . . Why Shouldn't I Go? is a masterpiece about the everyday horrors that can lurk behind closed doors."
Why Shouldn't I Go? was first produced as part of Shoreham Wordfest 2019 at the Ropetackle in Shoreham by Sea, Janet's home town.
 Originally planned for the postponed Brighton Fringe 2020,  she is pleased as Punch to be finally able to present it in Brighton, a town very close to her heart.
Her father, writer Brian Behan (brother of renowned playwright Brendan) was a Brighton resident for many years. He swam every day in the sea, produced some fine plays at the fringe, was regularly featured in the letters page of the Argus and generally adored living here.
He was a very well-known character in the town and still remembered with much affection — and he'd have been pleased as Punch too.