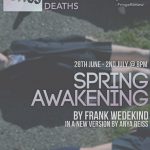 Brief Hiatus
Spring Awakening

by Frank Wedekind in a new version by Anya Reiss
Melchior is fighting the system. Wendla keeps contemplating her own mortality. Moritz is just trying to survive his exams.
The kids aren't alright.
Unnerving, entertaining, funny and dark, Wedekind's definitive play about youth caused riots when it first exploded onto the stage in 1906 and it has lost none of its provocative power. Brief Hiatus present Anya Reiss' Spring Awakening, a play about eight teens as they stand on the brink of adulthood and stumble through the relationships that will take them there.
After a critically acclaimed production of Howard Barker's Gertrude - The Cry at 88 London Road, Brief Hiatus continue their 2016 season 'Little Deaths' at The Lantern Theatre. Described as 'Minimal. Visceral. Unforgettable.' by FringeReview, Brief Hiatus are a young, actor-led company who have already entrenched themselves as Brighton's very own theatrical enfant terrible, and who strive to produce uncompromising theatrical experiences for a regional audience.