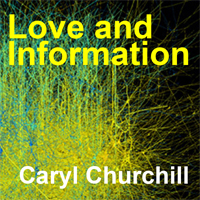 ACT Diploma in Acting present
Love and Information
by Caryl Churchill
Someone sneezes. Someone can't get a signal. Someone won't answer the door. Someone put an elephant on the stairs. Someone's not ready to talk. Someone is her brother's mother. Someone hates irrational numbers. Someone told the police. Someone got a message from the traffic light. Someone's never felt like this before.
In this fast moving kaleidoscope, more than a hundred characters try to make sense of what they know.
Directed by Janette Eddisford.
"Caryl Churchill's new play has 57 scenes, runs 110 minutes and employs 16 actors to play more than 100 characters. Too much information?
But one of the many points made by this exhilarating theatrical kaleidoscope is that we live in a world where information bombardment is in danger of leading to atrophy of memory, erosion of privacy and decay of feeling.
What is extraordinary about Churchill is her capacity as a dramatist to go on reinventing the wheel. All her plays, from Owners to A Number and Far Away, are formal experiments, and on this occasion she has come up with something that feels like an intimate revue written by Wittgenstein...........
For me, Churchill suggests, with compassionate urgency, that our insatiable appetite for knowledge needs to be informed by our capacity for love."
Michael Billington, The Guardian 2012