Lord God by Brian Mitchell and Philip Reeve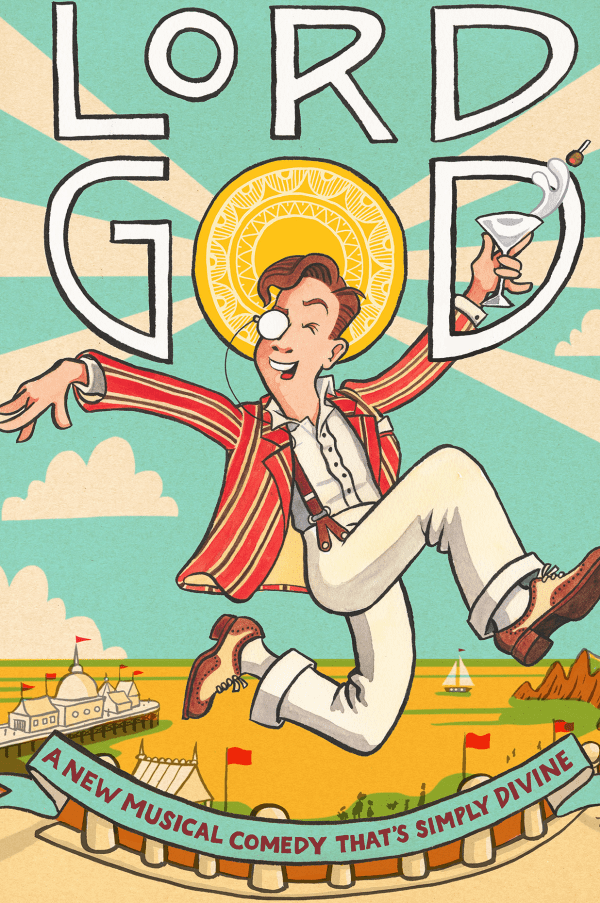 Lord God
by Brian Mitchell and Philip Reeve
When the Lord God is persuaded by His retainer and chief-cook-and-bottle-washer Gabriel to take an incognito holiday in a Devonshire seaside hotel (largely to get Him out from under His angels' feet), He looks forward to a fortnight of uninterrupted tennis, billiards, tea on the terrace and the latest Agatha Christie. But the presence of campaigning atheist Professor 'Minty' Tweddle and her fiance, notoriously hard-to-please theatre critic Rex Addison, upsets His plans and leads to all manner of supernatural scrapes, japes and narrow escapes and the invention of a hot new global dance craze.
Can our hero persuade Minty He really exists?
Can He solve the Problem of Evil before breakfast?
What exactly is Rex Addison up to?
Will Gabriel step in once more to save the Almighty's bacon?
Find out the answers to these questions and all the mysteries of Creation in the new musical comedy Lord God, from best-selling author Philip Reeve and award-winning playwright and composer Brian Mitchell, whose previous collaborations include the recent sell-out stage adaptation of Pugs of the Frozen North and the acclaimed musical comedy The Ministry of Biscuits.
Building on their reputation for thought-provoking comedy, Lord God takes a timely look at morality, faith, and why sometimes it is best not to take things too seriously.
Produced by the "renowned and very popular" (London Pub Theatres) company The Foundry Group, and with a top-notch cast including Joanna Neary (Ideal), and Murray Simon (The Ministry of Biscuits), Lord God promises a night of  witty lyrics, toe-tapping tunes and thoughtful frivolity.
Lord God
The Friday 3rd December performance of LORD GOD has been postponed to Friday 25th March 2022 at 7.30pm.
All tickets already sold will remain valid and tickets will automatically be transferred. Ticket holders who cannot attend, or who would like a refund, please contact the venue.
New Date:
Fri 25 March 2022, 7:30PM
Tickets £14.00 / £11.00Family £45.00 (Admits 4. Family of 4 : 2 adults and 2 Under `16's)
The latest vintage-inspired slice of Englishness from the engagingly skewed Foundry Group....  

Clever Gilbert & Sullivanesque lyrics and sparky lines...

Sweet, gentle, full of heart....

a huge hit with the crowd.
Philippa Hammond, Sussex Playwrights Reviews.
AUDIENCE COMMENTS
Really great musical.With God played as a Bertie Wooster type, having one song about the problems with Lloyd Loom Chairs, and another extolling Full English Breakfasts… what's not to like?
Simon Whitson
Lord God was bloody brilliant tonight! Fab show, fab cast or should I say 'Jolly Good!'
Charlotte Glasson
What an absolutely fantastic time we had last night. Brilliant performances and excellent songs which we have been reminiscing over all morning. Still raving about it. Really brilliant show.
Nick Pynn
Had a hoot at the show last night. Classic songs and tippity top performances. Plus some rhyming that made my toes curl with pleasure! It was delicious.
Terry Garoghan
Full english breakfast had me crying with laughter! Whole show was brilliant.
Ian Shaw
It was so so so jolly good!!! Congrats all who made it happen!
Kate Daisy Grant
Excellent show. Wonderful cast.
Adam Beeson
PREVIOUS PRESS:
"A clever jolly romp with a satirical edge - unlike anything else around. Charmingly old fashioned, and courageous for being so. I enjoyed it immensely."  - Musical Theatre Review on The Ministry of Biscuits
"What an absolutely ripping wheeze…a top-hole musical comedy without a trace of Lloyd Webber anywhere…a highly entertaining, clever show, packed with neat one liners…a festival gem." – The Stage on The Ministry of Biscuits
"A thoroughly satisfying and timeless tale...a wise and witty, full-bodied show... This fifty-one-year-old loved every minute, and his fifteen-year-old son loved it as well." - FringeReview on The Ministry of Biscuits