Forgotten Voices by Malcolm McKay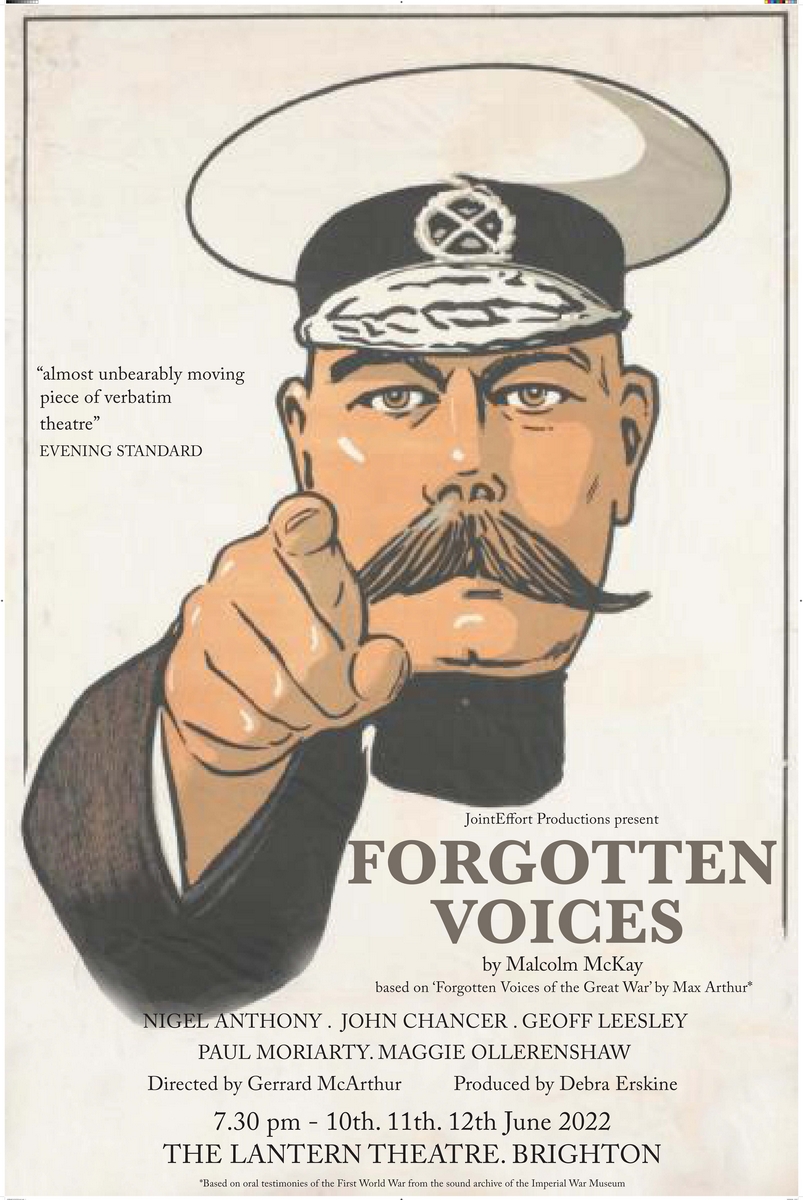 Forgotten Voices
by Malcolm McKay
Five ordinary people recount their experiences of WW1 in this unforgettable drama.  
Life and death are neighbours amidst mud, fear and carnage at the front. 
Based on the testimony of those affected their words resonate down the years. 
"almost unbearably moving piece of verbatim theatre"
EVENING STANDARD
Performed by:
Nigel Anthony, John Chancer, Geoff Leesley , Paul Moriarty & Maggie Ollerenshaw.
Directed by Gerrard McArthur
Produced by Debra Erskine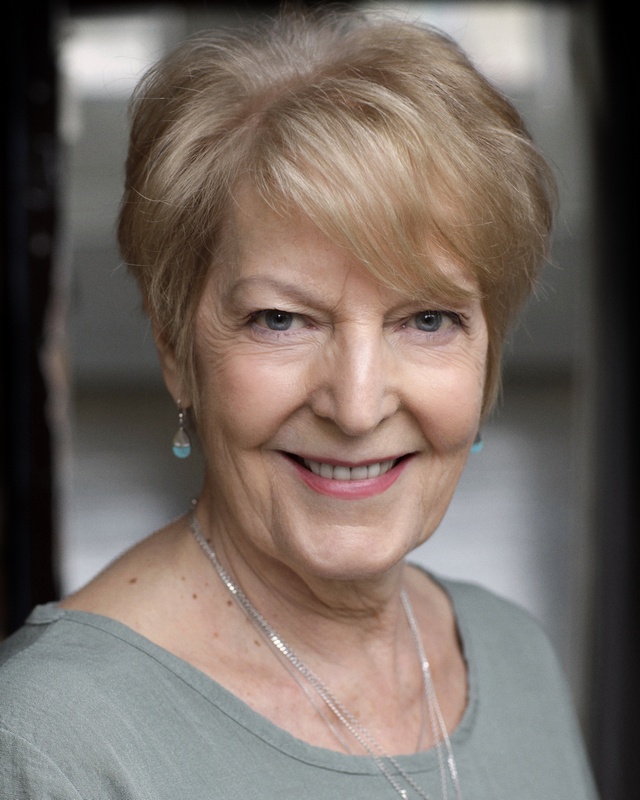 Maggie Ollerenshaw
BAFTA nominated in film (PIERREPOINT) and television (LAST OF THE SUMMER WINE) Maggie is also known for playing Mavis in the popular BBC TV sitcom STILL
OPEN ALL HOURS. She has appeared in SCARBOROUGH, CORONATION ST, MIDSUMMER MURDERS, ENDEAVOUR and VICTORIA WOOD. She was series regular Florence
Ranby in HOUSE OF ELIOTT.
Her theatre ranges from MERRY WIVES (Northern Broadsides) and WHO'S AFRAID OF VIRGINIA WOOLF (The Swan) to PYGMALION for the Peter Hall company.
She's the voice of the Queen in LITTLE PRINCESS and Henrietta in THOMAS & FRIENDS.
Her one woman musical play about Vera Lynn SINCERELY YOURS has played throughout the UK and abroad.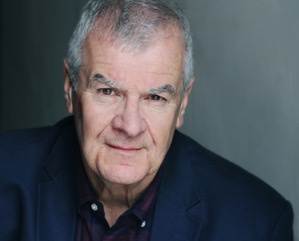 Geoff Leesley
His theatre includes PYGMALION & THE APPLE CART for Peter Hall, OTHELLO (Trafalgar Studios), MUCH ADO ABOUT NOTHING for Manchester Royal Exchange, AN INSPECTOR CALLS (National tour), WARS OF THE ROSES for Trevor Nunn, and TROUBLE IN MIND (Ustinov Bath & Print Room).
TELEVISION includes NEW TRICKS, HOLBY CITY, THE ESCAPE ARTIST. WHITE HEAT, MIDSUMMER MURDERS AND LITTLE BRITAIN.
FILMS include FERRYMAN, 5 GREEDY BANKERS, WIMBLEDON, ASHES & SAND & ASYLUM.
He is LORD WHITEHEAD in the GAME OF THRONES game for Telltale.
He has an MA in screenwriting from the University of the Arts and his first full length play, WHAT ABOUT ME?, is in development.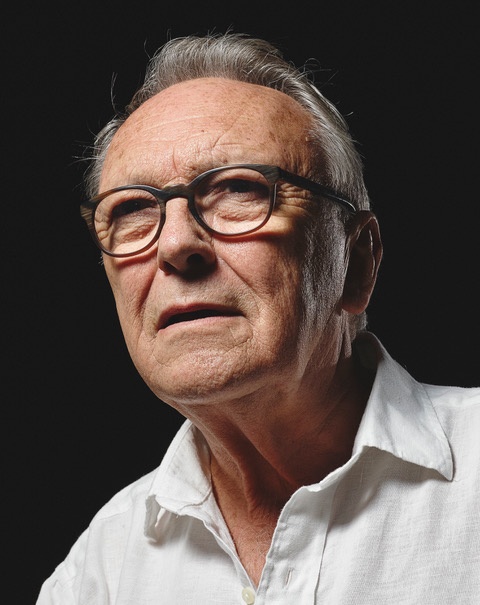 Nigel Anthony
Nigel Anthony started as a boy actor in the 1950s appearing in short trousered roles in JENNINGS AT SCHOOL on radio and BILLY BUNTER on Television.
Theatre work includes: The RSC, the OXFORD PLAYHOUSE and Alan Ayckbourn's company in Scarborough. More recently "DEAREST NANCY, DARLING EVELYN" the LETTERS OF MITFORD AND WAUGH opposite Fenella fielding and Nickolas Grace sold out the Jermyn Street Theatre Television includes: CROWN COURT, OPPENHEIMER, OLIVER TWIST, THE DIARY OF ANNE FRANK, WYCLIFFE, THE BILL, DOCTORS AND MIDSOMER MURDERS and THE CROWN.
He has a Sony award and a Radio Times award for his radio performances "THE COLLECTOR", opposite Judi Dench, has just been released on CD. He frequently narrates audio books and his voice overs, commercials and promos for television include 11 years as the voice of Tesco. Nigel is also an accomplished jazz drummer, (always looking for somewhere to sit in).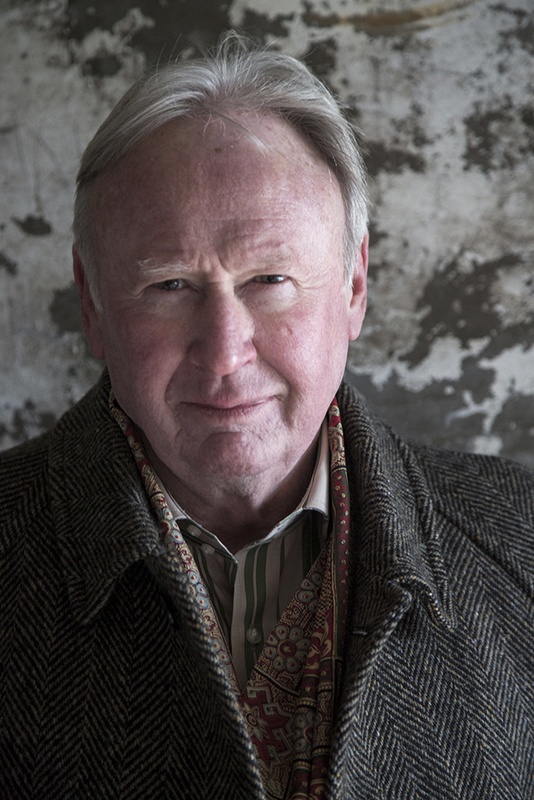 Paul Moriarty
Paul has been lucky enough to work with writers who incude :EDWARD BOND, CHARLES WOOD, DAVID HARE, TONY HARRISON AND CARYL CHURCHILL.
Directors : LINDSEY ANDERSON,BILL GASKELL, BILL BRYDON, PETER GILL, RICHARD EYRE RUFUS NORRIS, TREVOR NUNN and MARK BRAILSFORD.
West End :THE CONTRACTOR, SERIOUS MONEY and THE MYSTERIES. RSC : BINGO, THE BUNDLE, DESTINY, DINGO, MACBETH and TWELFTH NIGHT. Abbey Theatre : SAVED. National Theatre: DAVIDHARE TRILOGY, MARKET BOY and AS I LAY DYING. American Tours: THE TEMPEST, MUCH ADO, RICHARD THE SECOND and CORIOLANUS.
Television: THE GENTLE TOUCH, TROILUS AND CRESSIDA, EASTENDERS, PRIDE AND PREJUDICE, A TOUCH OF FROST. Brighton Open Air Theatre: COMEDY OF ERRORS, MERCHANT OF VENICE and LADY IN THE VAN.
Numerous Radio and Voice Overs.
John Chancer
John is an American actor with a long association with the theatre on both sides of the Atlantic. Recent UK theatre: THE STING (Wilton Music Hall); FEAR AND LOATHING IN LAS VEGAS (Vaults & Edinburgh); THE WHITE HOUSE MURDER CASE, THE MADRAS HOUSE (Orange Tree); DESIRE UNDER THE ELMS (Citizen, Glasgow); and National Tours of DRIVING MISS DAISY and CAT ON A HOT TIN ROOF.
TV includes: THE POWER; ABSENTIA; TOP COPPERS; EPISODES; ANY HUMAN HEART; and SPOOKS
Film includes: THE ONE AND ONLY IVAN; THE COUNSELLOR; CASINO ROYALE; and PROJECT: SHADOWCHASER.
John has also voiced dozens of ads, video games, audio dramas and radio plays. He is an award winning narrator of hundreds of audiobooks and has voiced many cartoon series including ROBOZUNA; CHUGGINGTON (US); and the cult figure of SNUFKIN in the MOOMINS.