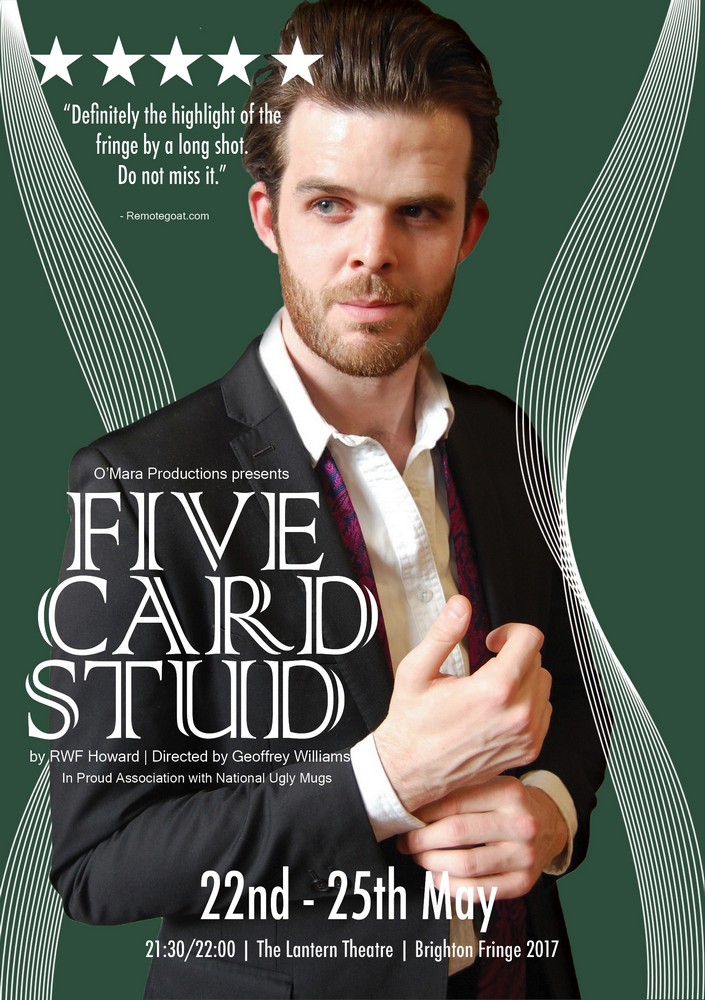 Five Card Stud
by RWF Howard
If the clients play nice, male escorting can be a pretty sweet gig.
Problem is, Elliot doesn't always play nice... What service will Ace, our Five Card Stud, be expected to perform when confronted by his past?
Following its Old Red Lion directed reading and workshop with the Old Vic Workrooms, join Ace and Elliot's evening as it unfolds in two different ways; one where client is an older man, one as a woman.
Discover how gender changes the transaction, the truth behind the games they play, and what can and cannot be said in this battle of the sexes.
Slick sexy show rocks boat!
RemoteGoat Review 5 ***** 22/5/17
Five Card Stud gives an insight into the world of the male escort, but with a twist...what if you were confronted by your past life? How do stay professional within this context? These are the questions Ace has to face in this sharp, slick comedic three hander.
What is striking about this piece from the start is the simplicity of the set and the context. We tend to think that escorting is the easiest job in the world on the surface, but never really consider what is actually involved. The choices you have to make with each client, the way you handle abrupt emotional changes and so on. But what makes this piece riveting is that despite it being the same script in two different scenarios, each intention is strikingly different. On the one hand you see a beautiful strong performance from Gina Cameron (Elliott) playing the older woman and ex boss, who goes on a sexual roller coaster journey as she tries to engage with Ace, her old intern. The other scenario shows an older male looking to find himself again. Rory Murray portrays this role with dignity and sensuality and like Gina, really showed an emotional journey that engaged the audience as he showed how vulnerable he was.
Hadley Smith we have to give a special mention to as he played Ace the escort. The way he handled each client was mesmerising due to the changes he made between the different sexes. He was arrogant and yet at the same time as his past came back to haunt him, he showed the scared little boy he used to be. It was an endearing performance that is not to be taken for granted.
All three worked so well together, that the chemistry was electrifying! To find out why this is, you must see this play! Definitely the highlight of the fringe by a long shot. Do not miss it.