When:
2017-05-29T14:00:00+01:00
2017-05-29T14:15:00+01:00
Cost:
£8.00 & £7.00 (Concession)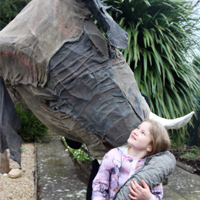 Elephant of My Heart : Interactive Children's Workshop
A wonderfully inventive join-in musical workshop for children.
A nine year old girl recovering from an injury is visited by an elephant and a host of other splendid animals who help her to believe that one day she will fly. Come and play some of the characters and do your bit to guide her to the light at the end of the tunnel.
An uplifting interactive storytelling with songs, physical theatre and plenty of chances to imagine!
For children 6 -12 years
'A joyous story filled with hope and the power of imagination – the youngsters were totally engaged and captivated.' British Theatre Guide
'A truly wonderful piece of children's theatre' – Musical Theatre Review
'A colossally inventive and deliciously ensemble play for children.' – First Night Reviews
'Totally magical. My daughter didn't want it to finish' – Susy Puckett – Audience member Caterham